Voor kinderen van 2 t/m 12 jaar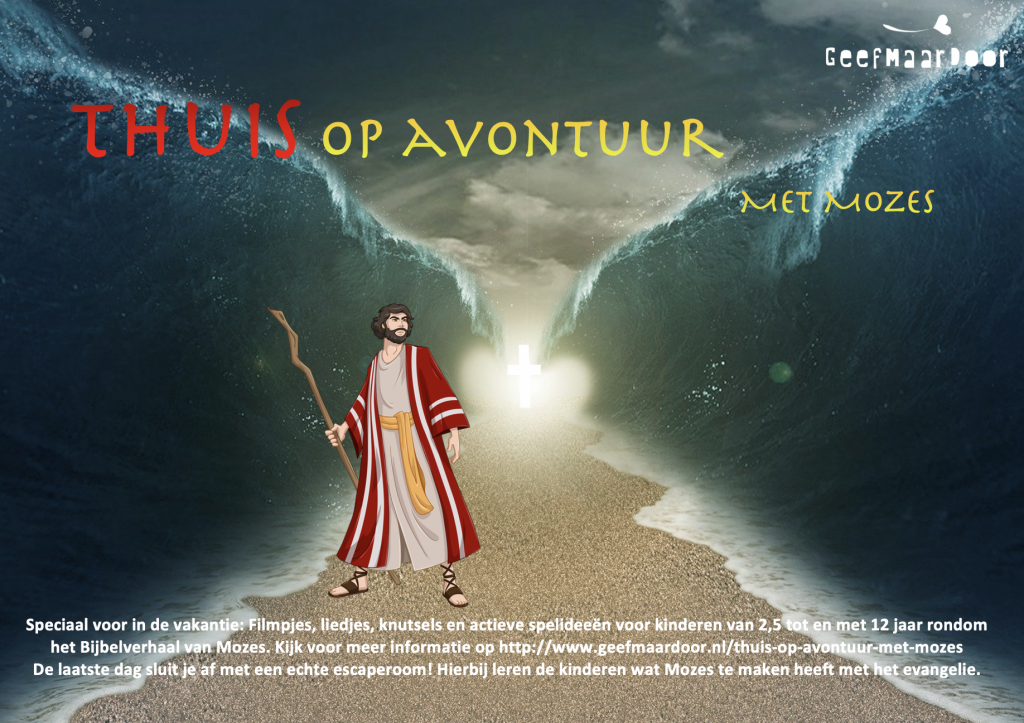 'Thuis op avontuur met Mozes' is speciaal bedoeld voor gezinnen die tijdens de vakantie:
Samen leuke dingen willen doen
De kinderen ideeën willen geven waar ze zelf heerlijk mee bezig kunnen gaan zonder daar zelf heel veel tijd in te steken
De kinderen waardevolle lessen willen leren uit Gods Woord
Op een creatieve manier met geloofsopvoeding bezig willen zijn
'Geefmaardoor' helpt de ouders graag een handje! Helemaal nu het vakantie is. Dit programma voor 4 dagen waarbij kinderen leren van de grote wonderen van onze Hemelse Vader is voor ouders super gemakkelijk aan te bieden aan de kinderen.
Op de eerste drie dagen kun je de kinderen een (deel van een) film laten zien, een Bijbelverhaal laten horen via YouTube of een Henkie Show laten zien rondom de avonturen van Mozes. Dit is per leeftijd uitgezocht.
Daarnaast kun je per dag kijken op een Pinterest pagina vol ideeën rondom deze film of serie. Je vindt hier van alles: puzzels, kleurplaten en liedjes, maar ook proefjes en buitenspeel-ideeën: voor iedereen zit er vast iets tussen!
Op dag 4 leggen we heel bewust de link van het verhaal van Mozes met het evangelie. Een prachtige manier om met je kinderen na te denken over het bijzondere werk van onze Here Jezus Christus!
---
Dag 4: Escaperoom 'van Mozes naar Jezus'
Gods zegen en heel veel plezier!
Tip: In plaats van 4 dagen kun je ook 1 dag 'uitsmeren' over een hele week 🙂